Rusty's Pizza Instagram Sweepstakes Rules
---
Official Rules
Enter to win a Free Large Rusty's Specialty Pizza. (Deadline to enter 6/4/18 - 11:59 p.m.).
To enter, all you need to do is:
Follow us @rustyspizza
Post your answer to; Which location had a fireplace inside in the '70's?
Tag your friends for more chances to win. Enter often! Contestants must be 18 years & a resident of Santa Barbara. Sweepstakes ends June 4, 2018!
We will notify the prizewinner through Instagram, Facebook or Twitter on June 5, 2018.
Additional Information:
NO PURCHASE NECESSARY TO ENTER, PLAY OR WIN. A PURCHASE WILL NOT IMPROVE YOUR CHANCES OF WINNING. THIS SWEEPSTAKES IS INTENDED FOR PLAY IN THE UNITED STATES ONLY. DO NOT ENTER THIS SWEEPSTAKES IF YOU ARE NOT LOCATED IN THE UNITED STATES. MUST BE 18 YEARS OF AGE OR OLDER TO ENTER. TO ENTER WITHOUT PURCHASING ONLINE, FILL OUT THE CONTACT FORM HERE (http://rustyspizza.com/santa-barbara/contest) INCLUDING YOUR WITH YOUR NAME & EMAIL ADDRESS. THE MESSAGE OF THE EMAIL MUST STATE: Rusty's Pizza #therustysstory.
SPONSOR: Rusty's Pizza Parlors, Inc. ("Sponsor") is the sponsor of the Rusty's Pizza #therustysstory Sweepstakes. Sponsor's physical mailing address is 228 West Carrillo St. Suite F, CA 93101 (www.rustyspizza.com). This Sweepstakes is not sponsored, endorsed or administered by, or associated with Instagram, Facebook, Twitter or any other media.
DESCRIPTION OF SWEEPSTAKES: Via our website: www.rustyspizza.com, look under "contest and rules".
Entrants can submit as often as they would like over the Sweepstakes period (June 1 - June 4, 2018). Duplicate submissions are allowed.
ELIGIBILITY: The Sweepstakes is open only to legal residents of the County of Santa Barbara, California, who are 18 years of age or older at the time of entry. Employees of Sponsor, and Sponsor's partner companies, affiliates, members, promotion vendors and other vendor agencies directly or indirectly involved in this Sweepstakes, as well as the immediate family members (spouse, parents, siblings and children) and household members of each such person, are not eligible. Sweepstakes is subject to all applicable federal, state, and local laws and regulations. Sponsor retains the sole discretion to determine in good faith all questions regarding Entrant eligibility.
SWEEPSTAKES TIMING: The Sweepstakes begins at 7:45 p.m. (Pacific Time) on June 1st, to 11:59 pm June 4th, 2018 (the "Promotional Period").
HOW TO ENTER: Go to our Instagram @rustyspizza or FaceBook at Rusty's Pizza Parlor. 1)Follow us on IG @rustyspizza 2) Answer the question on Instagram or FaceBook; Which location had a fireplace inside during the'70's? 3) Tag your friends for more chances to win.
PRIZE WINNERS PRIZE SELECTION AND NOTIFICATION: Sponsor will select 1 prizewinner on June 5th, 2018 for a Rusty's Large Specialty Pizza Gift Certificate. The prizewinner will be selected at random from all persons who posted on Instagram, FaceBook or Twitter.
9. Decisions of the Contest Administrator are final and binding in all respects and cannot be challenged or appealed. The potential prizewinner must meet all eligibility requirements set forth in these rules to qualify for prize. Odds of winning depend upon the number of eligible entries received.
Notification to the winner will be completed on June 5th, 2018. The winner will be notified either via Instagram or Facebook message. The winner will be asked to contact a Sponsor Representative to arrange pick up of the prize. If any winner notification remains unanswered for forty-eight (48) hours, the prize may be forfeited in its entirety and an alternate winner may be selected. No prize substitutions or cash alternatives will be offered or allowed except as may be determined by Sponsor in its sole and absolute discretion.
PRIZE AND APPROXIMATE RETAIL VALUE: Value of Prize No travel fees or transportation of any kind are included in this prize.
Sponsor will not replace any lost, mutilated, or stolen certificates. The prize is non-refundable and non-transferable, cannot be combined with any other special offer or promotion and must be accepted as awarded. All federal, state, and local taxes and fees are the sole responsibility of the winner. Sponsor will comply with all income tax reporting obligations.
PARTICIPANT'S AGREEMENT TO HOLD SPONSOR HARMLESS; LIMITATION OF LIABILITY: For purposes of paragraphs 12, 13, 14, 15, 16, 17, 18, and 19, the term "Sponsor" includes Sponsor and Sponsor's officers, directors, employees, agents and members. By entering the Sweepstakes, participants release and agree to hold harmless Sponsor, its vendors and its vendors' agents and employees (collectively, "Sponsor Entities") from any and all liability for any injuries, loss, or damage of any kind arising from or in connection with this Sweepstakes or any prize won, including any injuries, loss or damage of any kind arising from or in connection with Entrant's participation in the Sweepstakes and/Sponsor's use or uses of the story, Photo and/or Submission. Sweepstakes Entities are not responsible for any typographical or other errors in the printing or publication of this offer, administration of the Sweepstakes or in the selection or announcement of the prize. In the event Sponsor is prevented from continuing with this Sweepstakes, or the integrity and/or feasibility of the Sweepstakes is undermined by any event including but not limited to fire, flood, epidemic, earthquake, explosion, labor dispute or strike, act of God or public enemy, satellite or equipment failure, riot or civil disturbance, war (declared or undeclared), terrorist threat or activity, or any federal, state or local government act, law, order or regulation, order of any court, or other cause not reasonably within Sponsor's control (each a "Force Majeure" event or occurrence), Sponsor shall have the right, in its sole discretion, to abbreviate, modify, suspend, cancel, or terminate the Sweepstakes without further obligation and, if the Sweepstakes is so abbreviated, modified, suspended, cancelled, or terminated, Sponsor reserves the right, but not the obligation, to award the Prize from among all valid and eligible entries received up to the time of such Force Majeure event. The laws of the State of California (USA), without regard to its conflict of law rules, will govern these Terms. Any action relating to this Sweepstakes shall be initiated only in the state and federal courts located in or having jurisdiction over Santa Barbara, California (USA).
ONLINE REGISTRATION: This Sweepstakes is intended for viewing and participation in the United States only and shall be construed and evaluated according to U.S. law. Do not enter this Sweepstakes
if you are not located in the United States and/or are not a legal U.S. resident. Sponsor assumes no responsibility for any error, omission, interruption, deletion, defect, delay in operation or transmission, communications line failure, theft or destruction or unauthorized access to, or alteration of, entries, including any error that may result in an erroneous appearance of qualification for a prize. Sponsor is not responsible for any problem or technical malfunction of any computer equipment or software that results in loss of entry. WARNING: ANY ATTEMPT BY ANY PERSON TO DELIBERATELY DAMAGE ANY COMPUTERIZED SITE OR UNDERMINE THE LEGITIMATE OPERATION OF THE SWEEPSTAKES IS A VIOLATION OF CRIMINAL AND CIVIL LAWS AND SHOULD SUCH ATTEMPT BE MADE, SPONSOR RESERVES THE RIGHT TO SEEK DAMAGES FROM ANY SUCH PERSON TO THE FULLEST EXTENT PERMITTED BY LAW. NO ENTRANT THAT SPONSOR DETERMINES IN ITS SOLE DISCRETION TO HAVE ATTEMPTED TO UNDERMINE THE LEGITIMATE OPERATION OF THE SWEEPSTAKES WILL QUALIFY TO WIN AND SPONSOR RESERVES THE RIGHT TO RESCIND ANY AWARD GIVEN TO ANY ENTRANT DETERMINED BY SPONSOR IN ITS SOLE DISCRETION TO HAVE ATTEMPTED TO UNDERMINE THE LEGITIMATE OPERATION OF THE SWEEPSTAKES.
14. By participating, each Entrant agrees to comply with these official rules. Sponsor is not responsible for any incorrect or inaccurate information, whether caused by any of the equipment or programming associated with or utilized in the Sweepstakes or by any technical or human error that may occur in the processing of entries in the Sweepstakes. Sponsor assumes no responsibility for any error, omission, interruption, deletion, defect, delay in operation or transmission, communications line failure, theft or destruction or unauthorized access to, or tampering with or hacking of, the Sponsor or Facebook web sites or any technical failure or malfunction, or any injury or damage to an entrant's or any other person's computer or property.
IN NO EVENT WILL SPONSOR OR ANY SPONSOR ENTITIES BE RESPONSIBLE OR LIABLE FOR ANY DAMAGES OR LOSSES OF ANY KIND, INCLUDING DIRECT, INDIRECT, INCIDENTAL, CONSEQUENTIAL OR PUNITIVE DAMAGES ARISING OUT OF SPONSOR'S USE, ENTRANT'S PARTICIPATION IN THE SWEEPSTAKES, ENTRANT'S USE OR ENJOYMENT OF ANY PRIZES WON, ENTRANT'S ACCESS TO OR USE OF SPONSOR'S WEB SITES OR THE FACEBOOK, TWITTER OR INSTAGRAM WEBSITES, OR THE ACCESSING, DOWNLOADING AND/OR PRINTING OF ANY MATERIAL AVAILABLE ON SAID SITES. WITHOUT LIMITING THE FOREGOING, EVERYTHING ON SPONSOR'S WEB SITES, FACEBOOK PAGES AND OTHER THIRD-PARTY APPLICATIONS SUCH AS TWITTER, INSTAGRAM AND PINTEREST, INCLUDING ALL LINKS THEREIN, IS PROVIDED "AS IS" WITHOUT WARRANTY OF ANY KIND, EITHER EXPRESSED OR IMPLIED, INCLUDING BUT NOT LIMITED TO, THE IMPLIED WARRANTIES OF MERCHANTABILITY, FITNESS FOR A PARTICULAR PURPOSE OR NON-INFRINGEMENT. SOME JURISDICTIONS MAY NOT ALLOW THE LIMITATION OR EXCLUSION OF LIABILITY FOR INCIDENTAL OR CONSEQUENTIAL DAMAGES OR EXCLUSIONS OF IMPLIED WARRANTIES SO SOME OF THE ABOVE LIMITATIONS OR EXCLUSIONS MAY NOT APPLY.
To receive the prize, the winner may be required to provide Entrant's full name, email address, birth date, zip code. The winner may also be required to complete, sign and return an affidavit of eligibility and liability/publicity release, prepared at Sponsor's cost and at Sponsor's sole and absolute discretion. A winner's prize will be forfeited and awarded to an alternate winner (selected by random drawing in accordance with Section 10) upon the occurrence of any of the following: (i) the failure of winner to confirm acceptance of the prize and return any required documents/information within seven (7) days of prize notification by Sponsor; (ii) the return of a prize or prize notification to Sponsor as non-deliverable; (iii) the determination by Sponsor that winner is ineligible or otherwise not in compliance with these official rules; or the winner's inability or refusal to provide such affidavits or releases as Sponsor may request in its sole and absolute discretion.
BY ACCEPTING A PRIZE, THE WINNER AGREES TO DEFEND AND INDEMNIFY SPONSOR AND ALL SPONSOR ENTITIES, AND HOLD SPONSOR AND ALL SPONSOR ENTITIES HARMLESS FROM ANY AND ALL LIABILITY FOR ANY INJURY, LOSS OR DAMAGE OF ANY KIND TO PERSONS, INCLUDING PERSONAL INJURY AND/OR DEATH, AND LOSSES TO TANGIBLE AND INTANGIBLE PROPERTY, ARISING FROM OR IN CONNECTION WITH ACCEPTANCE, POSSESSION, USE OR MISUSE OF ANY PRIZE, PARTICIPATION IN THIS SWEEPSTAKES OR ANY CONTEST-RELATED ACTIVITY.
SPONSOR IS NOT RESPONSIBLE FOR any changes or unavailability of any third-party service (including, but not limited to, Pinterest, Facebook, Instagram, Twitter, Google and/or Google+) that may interfere with the Sweepstakes (including any limitations, restrictions or conditions on Sponsor's ability to use such services for the Sweepstakes) or the ability or inability of any entrant to timely enter, receive notices or communicate with Sponsor. If, for any reason, the Sweepstakes is not capable of running as planned because of circumstances including, but not limited to, website outages or interruptions on Sponsor's or any third-party service provider's website, unauthorized intervention, fraud, technical failures, or any other causes, which, in Sponsor's sole judgment, corrupts or affects the administration, security, fairness, integrity or proper conduct of this Sweepstakes, Sponsor reserves the right, in its sole and absolute discretion and determination of fairness, to cancel the Sweepstakes.
BY REGISTERING TO ENTER THE SWEEPSTAKES, each Entrant acknowledges he or she has read, understands and will abide by these official rules. All issues and questions concerning the construction, validity, interpretation and enforceability of these official rules, or the rights and obligations of Entrants and/or Sponsor in connection with the Sweepstakes, shall be governed by and construed in accordance with, the laws of the State of California, without regard to the conflict of laws principles.
ENTRANT'S PERSONAL INFORMATION: Information collected from Entrants is subject to Sponsor's privacy policy, which is published at http://rustyspizza.com/santa-barbara/legal-and-privacy.
WINNER LIST: The name of the prizewinner may be obtained by sending a self-addressed, stamped envelope postmarked by June 30th 2018 to: 228 West Carrillo St. Suite F, Santa Barbara, CA 93101. This Sweepstakes is in no way sponsored, endorsed or administered by, or associated with Facebook, Twitter, or Instagram. You are providing your information to Sponsor and not to Instagram.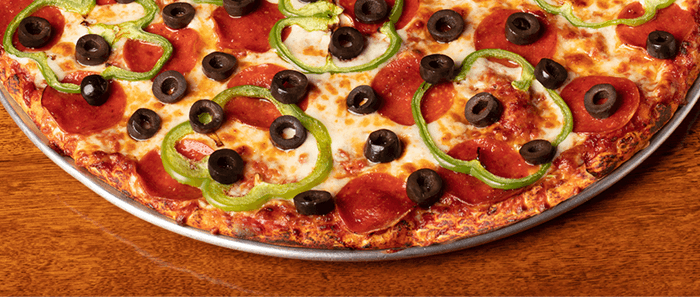 Never Miss a Deal
Join Rusty's VIP Club & we'll send you special discounts right to your inbox. Sign up NOW and receive 20% Off your First Club Food Order!
By completing this form you're opting in to receive our awesome email offers and may unsubscribe at any time.